Top posting users this week
Statistics
Our users have posted a total of 376 messages in 39 subjects
We have 17 registered users
The newest registered user is raimutalan
Class A, Kindergarten

Kriem

Witchie (Admin)




Posts

: 74


Witch+

: 9


Join date

: 2013-03-05


Age

: 16


Location (Witch's Barrier)

: It's dark and kawaii in my barrier! But you will most likely see me out and about! But, I don't need familiars in my barrier because I can do it myself! And I love having company over, especially my friends. So come on over sometime!


What you do as a witch

: I'm always out and about! I like to have bonfires with Ophelia, eat candy with Charlotte, cosplay with Candeloro, set Time Bombs with Homulily, go to Concerts with Oktavia, water plants with Gertrud, go to movies with H.N.Elly, meditate with Elsa Maria, and take Wallie to therapy to fix her anger issues.

Here is the kindergarten class. Roleplay now!
_________________
"But...how did this situation come to be?"
Oh hai I'm probably the kawaiiest witchie
~Witchopius Contaminated~

Charlotte

Witchie (Admin)




Posts

: 47


Witch+

: 4


Join date

: 2013-03-05


Age

: 17


Location (Witch's Barrier)

: My barrier is a giant cake! It's delicious and candy-filled! I hope you stop by if you have any cheese (Witches only of course), but on no circumstances may you bring Puella Magi.


What you do as a witch

: I am the dessert witch. Sometimes I have fun tea parties with Candeloro, go to concerts with Oktavia, visit the theater with Wallie, tend the rose garden with Gertrud, and, of course, save the world with Kriem.

"Ah, ah teacher!" Charlotte called out. She was having difficulty with her writing assignment, to copy capital and lowercase letters A-G. She just couldn't do a lowercase "e" correctly. It was actually pretty hard for her to write at all, seeing as... Well, all you had to do was look at her.
_________________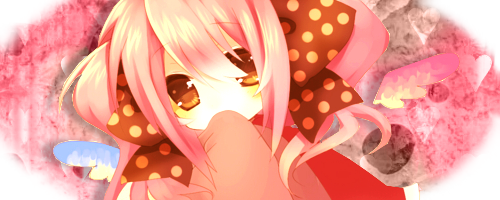 "However, that surely wasn't possible."
Charlotte:

Thank you for making the text, Creativity and Cherry!

Avatar and banner made by H.N. Elly.

Gertrud

Familiar (Mod)




Posts

: 40


Witch+

: 1


Join date

: 2013-03-14


Location (Witch's Barrier)

: A collage-like rose filled barrier with tons of gardens and puzzles. I welcome you to my barrier, unless you're a *ughh* human.


What you do as a witch

: I plant roses, visit other witches barriers, wear mustaches, spend time in the other witches barriers,and much more.

Gertrud began the writing assignment her teacher gave her. She started writing her favorite parts of the assignment, instead of the first question."Write your favorite passtime," it read. Gertrud gripped tightly to her pencil, and wrote in messy capital letters, "ROSES BARRIERS ROSES." Ignoring the other questions, Gertrud handed in the paper.
_________________

"Those flowers are unknown to me.
Yes. They are also unknown to me.
Shall we cut them off?
Yes. Let us cut them off.
We present the roses to our queen.
And the bad flowers
go to the guillotine.
Yes. Cut them off!
Yes. Cut them out!."